Need a hosting and website maintenance provider?
We can help!
We don't just build websites, we look after them with high-quality hosting and website maintenance too.
And over the last couple of decades, we've become very good at that!
We've researched and invested heavily into building an enviable, unparalleled service to ensure our clients' websites are fast, secure and well looked after on an ongoing basis.
Even if your site was built by someone else, we're still offering exactly the same personalised concierge-like service of hosting and maintenance of your website to you.
Here's how it works in four easy steps:
Step 1
The process starts with us doing a Care Plan Health Check to take a deep dive into your site and make sure we know how it works and what you'd like us to look after for you
Step 2
From there, we'll provide you with a report of our recommendations of what's required, to ensure optimal website maintenance, including recommendations for Hosting and Care Plans
Step 3
Next, you choose the services you'd prefer to suit your requirements and budget, then confirm when you'd like things to start
Step 4
Then just sit back and relax as we take care of everything for you. Moving your site under our care and continuing to look after it on a daily basis, allowing you to get on with other things that are more important to you!
After That
As an Urban Haze client, you then also get the benefit of preferential rates on all our other services like development, design and marketing
Service Benefits:
Hover over each item for more details
Selected to match your unique requirements and environmentally friendly using 100% renewable energy sources

Offering a secure connection for any visitor using your website



Care Plans with Options for:

Looking after technical stuff, so you can get on with more important things!

Core, plugin and theme updates, giving you the latest versions of software and securing software vulnerabilities

Copies of your site to ensure you can always recover from any problem or mistake

Including 3-2-1 method with onsite and offsite backups

Block hackers and more from attacking your site and give you the peace of mind your site is safe from abuse and constantly being protected

To reduce the unwanted messages that can come from a website and clear up your inbox

From basic analytics to active uptime checks giving you both the peace of mind to know your site is available to your audience and detailed feedback to measure and further improve it

Should the worst happen, we'll recover and cleanse your site for you with the minimum of downtime and disruption for you

If you'd like to grow your site further but need help – we're here for you

If you'd like guidance and training to do more yourself with your site, we've got you covered!

Expert help you can turn to whenever you need it, from people who don't just have really great WordPress skills, but also know and have experience with your website too

To rapidly log and keep track of any requests you may have

All our care plans can be personalised to suit unique requirements for any WordPress website, ensuring you get the best return on your investment into them.



WOM - Website Owner's Manual

A handy guide with all the important information that's custom written and unique to your site, along with explaining who does what and when and direct contact information if you need to get in touch.

All the complexities of Domains, DNS, Tags, Settings, Transfers and Renewals are taken care of and correctly set up by us on your behalf

We're human and like to provide a personalised service!

So we like to touch base with you once. a year, to answer any questions, offer suggestions and to make sure everything's working well for you.

P

Access to all other Urban Haze Services

Available at preferential, existing-client rates
Our Care Plan Health Check costs only £299 and also gives you 2 hours of inclusive time assisting you with fixing any problems that we find on your site.
Frequently Asked Questions
How much is a care plan?
Our care plans start from just £50 per month.
But each Care Plan varies from site to site depending on unique customer requirements.
You can get a good guideline figure for prices of our popular packages on our care plans page
How much is hosting?
Hosting varies from site to site.  We have hosting starting from as little as £18 per month and our high-speed "fastest in the world" hosting costs £50 per month for most sites with more options to scale up even further if needed.
Why do we need a Care Plan Health Check
We only work with websites that are well-built and error-free on our Care Plans. We need to run an audit on your website to ensure it's a good fit for our systems. In addition, you get the bonus of knowing that your website is in good order and safe hands.
Which Care Plan and Hosting Package should I choose?
Don't worry, part of our Care Plan Health Check includes us providing a report offering unique recommendations for the most suitable hosting and care plan for your site.
How long does it take?
We typically need around 2-3 working days to complete your Care Plan Health Check from the point of receiving your order. From time to time this may be a little longer, as it will depend on our current work schedule. We'll always be clear with you as soon as we confirm your order.
Once you've chosen your selected services and decided when you'd like your site to move, the move itself usually happens in about another 2-3 working days, depending on the size of the site.
But keep in mind this also requires changes to something called DNS – which can take up to a further 72 hours to fully propagate across the Internet.
Is it all automated?
Some of our processes are indeed automated
But we always have steps with manual human checks to ensure everything goes smoothly and meets the unique requirements and considerations of each and every client website that we care for.
How can we trust you?
We've spent the last 12 years providing these services to many happy customers – you can read some of their testimonials here, but we wouldn't still be in business after more than a decade if we didn't do this exceptionally well!
Our friendly team are well versed in carrying out audits on websites and are ready to assist you.
Can you help improve our site?
Yes absolutely!
As a digital consultancy, we offer a complete end-to-end to end service covering every aspect of web, online and digital solutions.
Once your website is safely under our care we can offer further services to help you do small things from minor edits to the content all the way up to major developments, along with online marketing to drive relevant traffic to your site.
We can also offer personalised training to show you how to do things yourself if you'd like.
No matter if it's SEO, Conversion Rate Optimisation, Google Ads, Email Marketing, Social Media, Create and Design or IT services, we've got great experience with all of these things and much more to help you.
The even better news for you is that all Care Plan Clients get preferential rates for these services
Find out more on our services page
Download our free Guide:
Five Essentials For Keeping Your Website Safe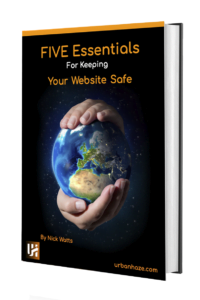 5 Essential Tips for Keeping Your Website Safe
Free advice on important website maintenance that you can do yourself to improve your WordPress website
Care Plan Health Check
Let us assess your website and give you a report of what's involved in moving to us 
Let us work with you to assess your WordPress site and find the best care plan to suit your needs and budget.