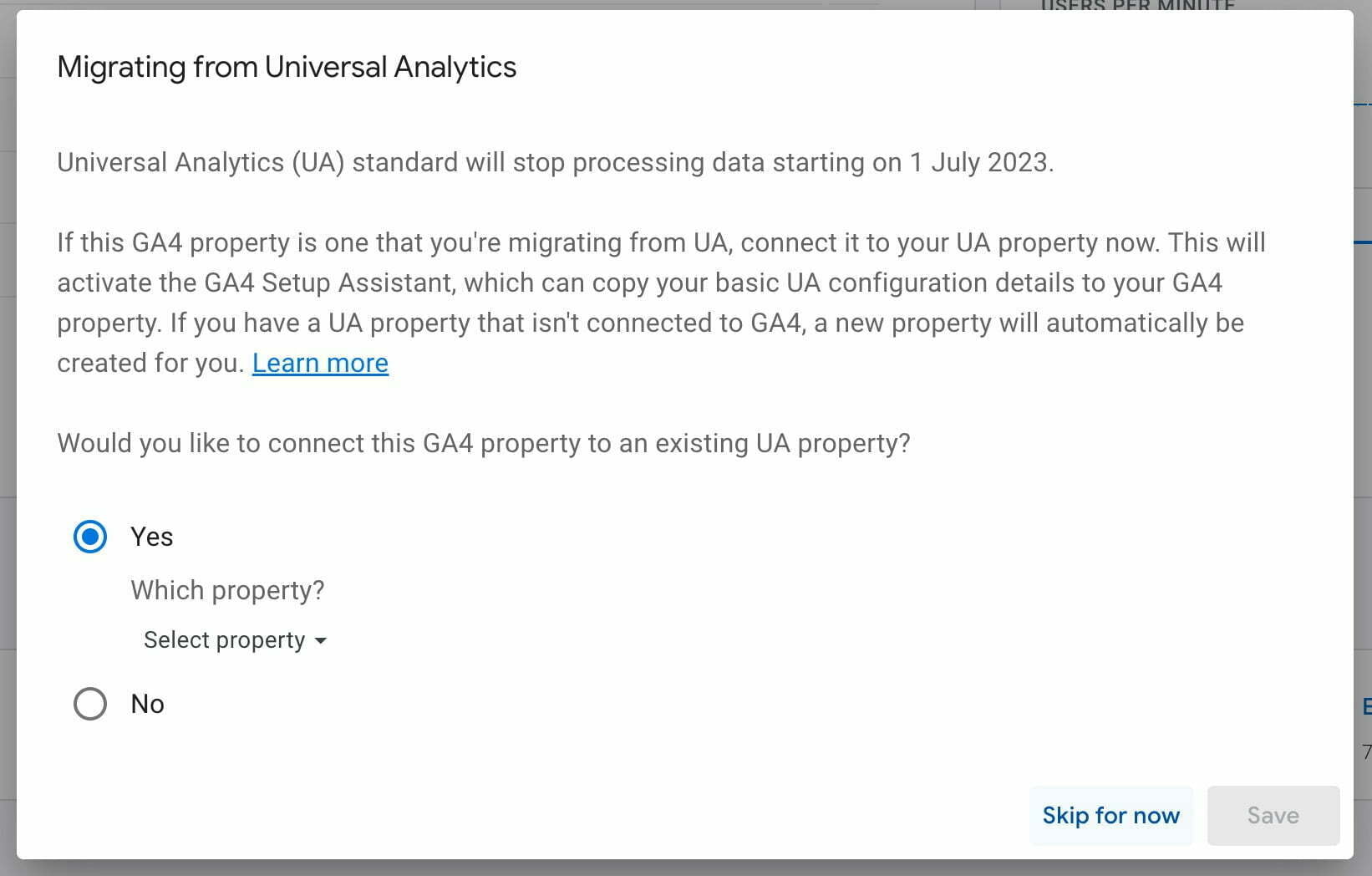 If you've been into Google Analytics recently, you may well have seen the warnings that Universal Analytics is going to stop processing data on 1st July 2023
What does this mean for me?
In simple terms, if you don't do anything you're going to lose the ability to measure your website after this date!
Whilst the documentation talks about "migration" this is a misnomer, sadly the old Universal Analytics and Google Analytics 4 are not compatible, meaning that the old analytics will simply be switched off, you won't be able to bring in any useful historical data before 1st July and the new Google analytics 4 service will be starting afresh, but only if you take action.
They also mention that they'll automatically create a Google Analytics property for you, inferring it's automatic.  However, you still need to manually add code to your website in order to make use of the new property!
What do I need to do?
During this intermediate time you can run both Universal Analytics and Google Analytics 4 simultaneously – to see both sets of statistics side-by-side and get a feeling for their similarities and differences.
In order to support the new Google Analytics 4 (GA4), there are a few things you need to do:
1) Set up a Google Analytics 4 Property
2) Connect Your website to the new property with some special code added to your site
3) Connect your old Universal Analytics (UA) account to the new GA4 one simply to stop the reminders to upgrade!
4) Learn the basics of the new reporting to get what information you need out of it!
It is a job that needs to be done before the deadline to ensure you don't miss out on collecting an visitor data once the old service is turned off – and that you have new figures you can make use of.
Don't Worry, though!
There are plenty of tutorials and guides available on the Internet to walk you through setting up Google Analytics 4 – or we can help you if you with everything if you prefer the more personalised touch.
Google Tag Manager
If you're going to upgrade to Google Analytics 4, then now is also the best time to implement Google Tag Manager – this software will not only give you Google Analytics 4, but also offers easy access to a massive variety of other analytical software and features and is perfect if you're thinking of running any kind of online promotion with your website, allowing easy implementation of Facebook Pixel, Hotjar tracking, Google Ads Conversion tracking and just about any other tracking code you could imagine.
Software Price
Much like Universal Analytics, both Google Tag Manager and Google Analytics 4 are advertised as "free-to-use services".  However, please do keep in mind that if you're subscribing to Google services like these, then as part of the terms and conditions, you're also agreeing to submit user data to Google to be processed by them outside the EU – at the very least this should be mentioned in your Privacy and Cookie Policies to ensure your website remains compliant with privacy and data protection laws.