Web Design
Generating Profitable Returns on your Investment
With over 20 years of experience of building business websites, we understand that your website needs to work hard for you.
Our approach is different – we don't just build websites, we build "Business Websites"
We take the time to get to know your business, to understand what you actually do, what your customer needs are and how your market works first, so that only then can make sure we provide the best online presence to suit your unique business requirements.
On average our Business Websites return four to five times the client's investment into them within 12 months.
We work closely with you to define the unique goals that are important to your business.  These vary from company to company but usually include things like:
Z

Reduce Administration Costs

Z

Speed up publishing time

Z

Bring in more leads

Z

Generate more sales

Z

Find new ways to interact with the audience

Z

Automate with other business systems
These go hand-in-hand with the given requirements that every client expects a website to have out of the box:
Z

High Quality Design to make you look professional

Z

Good SEO to bring in relevant traffic

Z

Responsive & Mobile Friendly to work on all devices

Z

Content Management System (CMS) to make changes yourself

Z

Reports and Analytics to measure results
WordPress Websites from just £1299
Buy a Discovery Session for just £299
The most cost-effective way to get the guidance and direction you need from experts with over 20 years' experience
Better still, this price is deducted from any project plan, should you choose to continue with us
Sell anything online with an Urban Haze Webshop
Our signature method ensures that we provide a complete end-to-end service for our clients. We help them maximise every aspect of their online presence from high-quality professional photography through to technical features that work hard for their business, to ensure we engage with as much of the audience as possible, converting them into sales and leads, which works in harmony with an online marketing campaign that drives traffic to your site.
Ultimately giving you more traffic, more leads, more sales and leaving you more time to get on with running your business.
There are lots of different tools out there for building websites and webshops, but we've chosen to stick with building WordPress websites because over 35% of the World's websites are powered by WordPress, and that's where our experience is best put to use to help your business make the most of this powerful online tool.
Every website we build uses WordPress, find out more about why we choose to only use WordPress
As part of our service we also offer a wide range of hosting and website maintenance plans to go along with any website and ensure you do as much or little of the work as you'd like to look after your website on an ongoing basis. 
Ultimately, we're here to help your business take full advantage of the Internet.  Investing into a website from Urban Haze ensures that your online presence is geared up from the start to produce a valuable return, paying for itself and working hard for you.
Here's some of our recent Business Website work:
Learn how to make your next website project a winner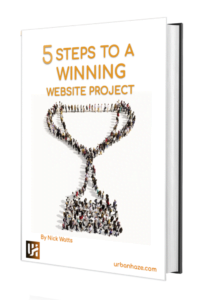 Download our free guide to learn the secrets to a successful website project, featuring tips that you can implement straight away.